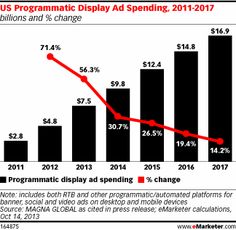 While we've been fascinated with the development of programmatic digital marketing & advertising the past year, there have been major technology related advancements in 2013. From, Elon Musk's high speed transport system to democratization of big data and, well, everything in-between. From Microsoft finding finally itself vis-a-vis Windows mobile to the quantifiable self and of course how can we forget the wearable technology goodness of such stuff as Google Glass. It's nice to see that technology is enabling enabling us to do more and that there are indeed pioneers and innovators of our century.
2014 will be a year of practicality, we hope, as it would be nice to see enterprises and consumers, pros and otherwise start consuming the new stuff practically and helping the innovators continue the journey of truly taking technology to new heights!
So, I thought it'd be good to still kick off the new year with a round up of relevant 2013 technology and advertising coverage from various publications we enjoy reading:
iMedia Connection – The Bold Ways Marketing Evolved in 2013
Background
By the way, programmatic generally is the automation of the buying and selling of desktop display, video, paid social and mobile ads. Programmatic capabilities are dependent on the maturity of a country's advertising market, for example, Programmatic is widely available in the US a developed market whereas, it's rare in APAC countries as they are developing.
Forbes – Programmatic Advertising – My Curious Quest Continues
NY Times – The New Algorithm of Web Marketing
NY Times – Elon Musk Unveils Plans for Hyperloop High-Speed Train
This is merely a smidgen of what we've accomplished, just think how much we've done and how much more we can achieve. I'm bullish about everything programmatic, of course selfishly, I'm hoping advertising and marketing becomes more and more automated where we as marketers and business folk can focus on higher order elements and return to listening to our customers versus chasing the proverbial conversion rate and so on.
Feel free to send me any articles you think would complement this round up and most of all enjoy!