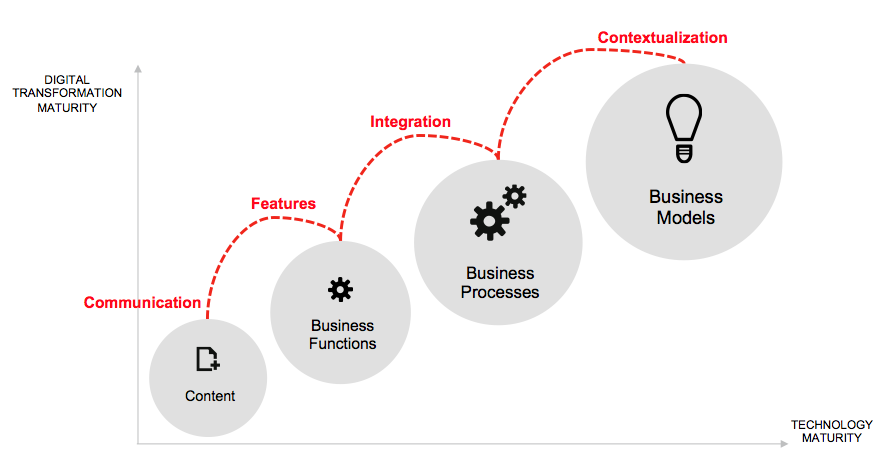 It's been a long while since my last post, and a lot has changed in digital hasn't it? Digital is here to stay, so much so, I've identified three particular areas where this is true, 1) the meaning of digital transformation has changed 2) new paradigms have emerged and 3) what was new before is now business as usual.
1) Meaning of digital transformation has changed – what it means to become a digitally driven enterprise has changed in the last year and a half. Lets face it, being a digital forward organization used to mean, shift more marketing/communications budgets/approaches towards digital and/or digitize what is "offline" to digital and/or pressure from wall street to take advantage of digital to shift to a new business model.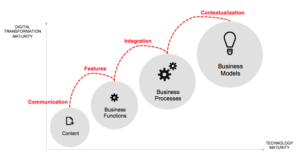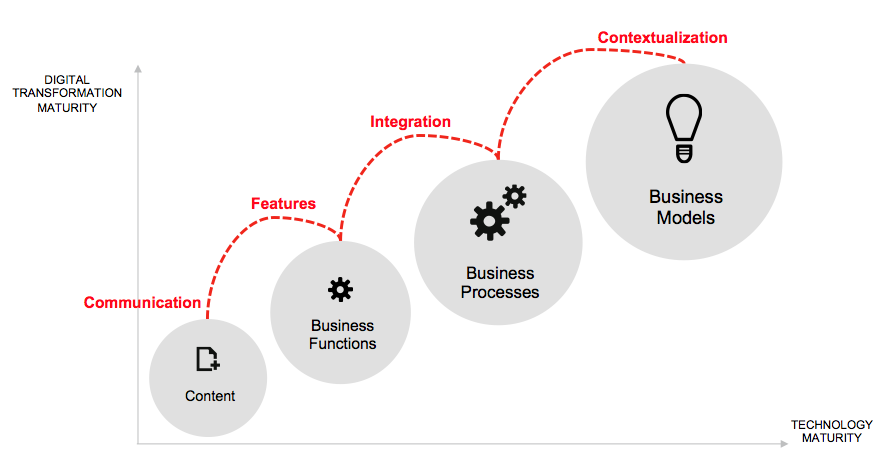 The illustration above probably encapsulates the maturity level and business aspects of the digital transformation to which we applied solutions. We've all been there, either leading and/or supporting, yet it's always catching up or missing a crucial lane here or there which presents a tremendous amount of waste and frustration.
We now know that there will always be challenges along the way yet even that mindset has to change. The interpretations presented by Mckinsey, BCG and other consulting shops will have us believe that solving the business problem will enable the change.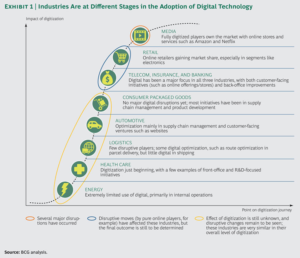 However, in order for large businesses to accelerate digital acumen isn't to ignore the business problem, existing non-digital assets and infrastructure that's driven businesses to growth today but rather understand how to shift to consumer first, tackle the customer pain points and then calibrate the strategy, operations and processes accordingly in a smart, continuous and agile way.
2) New digital paradigms have emerged – Cloud based products, the IoT (Internet of Things) is taking full shape in our lifetime, someone you know has a smart home or a series of connected devices, a hive of communications and a virtual mobile living room.

Companies are struggling to keep up with the changing landscape and this transformation is happening at various layers, both consumers and employees are looking for products and workplaces that are not tethered. It's inconceivable that before 2012 Snapchat didn't exist or that Netflix would be in the movie business or Alibaba would produce Star Trek Beyond! These forward thinking companies are following the consumer, understanding the behavior and solving for there needs. Snapchat an ardent consumer experience focused company is now growing at a velocity that even Facebook couldn't keep up with.
3) What was new is now business as usual – there isn't a digital revolution, it has come and we are past the digital chasm. More prominently, mobile is the new revolution, it's consuming all that is digital and bringing it to the physical. Smartphones are how we consume, read content, view movies, communicate, work and even pay each other.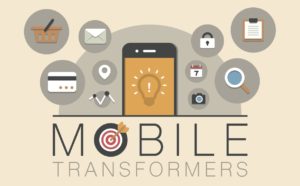 Mobile has been a catalyst to changing consumer behavior, for example we went from active participants, to being witnesses and to now merely sharing experiences to families, colleagues, friends, etc. It's not just changing the consumer mindset but small businesses as well. As an example, small businesses receive from direct feedback from consumers, even collecting payments directly. In essence, they are disintermediating the VISAs and MasterCard. How do businesses tackle this new behavior?
What's more, is that it was inconceivable three years ago that Verizon would by AOL, the mere fact that Verizon a telecommunications company would be in the business of culture and advertising. What's changed?
Consumer behaviors have given mobile companies a huge leg up and of course the ability to naturally apply continuous learning. I hope that as professionals we're all challenging the notion of business first and thinking about consumer first to understand the natural desire for consumers to be mobile and combing the worlds of digital and physical together.